This site will go under maintenance from 25-11-2020 to 30-11-2020. It might not reachable during the maintenance period.
Fellow:Brad Morrow
Jump to navigation
Jump to search
Brad Morrow is a computer engineering undergraduate student at the University of Oklahoma. He has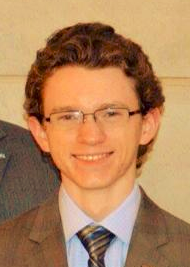 conducted research at the University of Tulsa and Missouri University of Science and Technology on a variety of topics ranging from self-healing plastics to glass printing technologies, and is currently working on high-frequency radars at the Advanced Radar Research Center. Working at the Center for the Creation of Economic Wealth has given him insight into how to monetize technical ideas. All of this work has led to a passion for research and development for practical technology. In his free time, Brad enjoys glassblowing and playing board games.
Related Links
University of Oklahoma Student Priorities
University Innovation Fellows
Spring 2016:
Brad Morrow
Spring 2015:
Spring 2014: