Fellow:Ryan Botts
Jump to navigation
Jump to search
Ryan 'Stirling' Botts was a Fellow at and graduated from Louisiana Tech University (LaTech) in Ruston, Louisiana with a Bachelor of Science in Industrial Engineering. Originally entering college with aspirations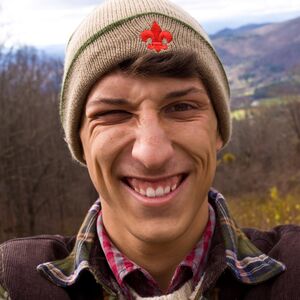 of earning a mechanical engineering degree and becoming a super successful (and wealthy) rocket scientist, Ryan found new passions and paths that completely altered his direction in life. He decided to focus on improving the quality of life in his communities. His childhood of growing up overseas in the U.S. military provided him the opportunity to experience other cultures which translated to being able to address challenges with various perspectives. On campus, Ryan started a service projects student organization, worked on multiple projects in business and art (favoring the position of being at the intersection of Engineering, Design, and Business), and was the initiator of bringing the UIF program to campus to both improve LaTech's culture for innovation and allow the university to further contribute to the greater community. Off campus, Ryan co-founded a design company (UpAhead, LLC), freelances with a local nonproft, reads as many books as he can get his hands on, and is still learning how to better manage his time so that he can do more (because there is a huge list of things he wants to do on the regular like working out and playing the piano). Future plans for Ryan involve growing his company's impact, establishing a stronger culture of entrepreneurship and innovation in North Louisiana, and applying to an MBA graduate program in April.
He really enjoys helping others develop customer discovery questions (as well as working through the greater startup process), fleshing out potential pain points in new ideas and processes, and working through the Design Thinking method (which is kind of a given).
He can be reached through ryanabotts@gmail.com.
---
---