This site will go under maintenance from 25-11-2020 to 30-11-2020. It might not reachable during the maintenance period.
Fellow:Reeth Mohta
Jump to navigation
Jump to search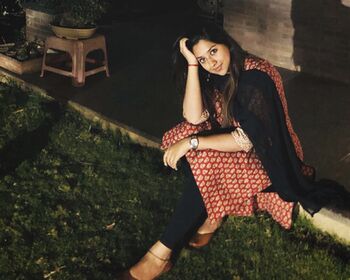 School: KLS Gogte Institute of Technology, Belgaum
What she does now: Studies Information Science Engineering, BOD member at Rotaract Club Belgaum Central.
What that means: Strengthens the knowledge and skills that aid in personal development, addresses social needs of the community and promotes better relations between all people worldwide.
E-mail: reethpatne@gmail.com
Connect at: https://www.linkedin.com/in/reeth-mohta-199b13160/
Reeth is a University Innovation Fellow and an undergraduate student studying Information Science Engineering at KLS Gogte Institute of Technology, Belgaum. Her schooling took place in Maharashtra as well as Karnataka which made her realise even though there can be a change in the education system across different states, the approach remains the same. Ergo, she strives to be a catalyst to bring about change in the way of approach towards education. 
She is a part of the Rotaract Club Belgaum Central. For the year 2017-18, she served as the International Service Director where her primary focus was on the International events, to plan out activities and projects that promote these events among people via Rotaract. She served as the Professional Service Director for the 2019-20 tenure and her focus was to arrange programs designed to provide information about a wide cross-section of businesses and entrepreneurs. She received the 'Best Professional Service Project' for the RI year 2019-2020 from Belgaum zone. She is currently the Secretary of the club for the year 2020-21. She is also a part of her school's Institute Innovation Council where she organises events to create awareness about Innovation, creativity and collaborative thinking to all the young minds on campus. She loves organising events as she enjoys communicating with people and getting to know them.
She is an ardent reader. She enjoys reading fiction, magical realism, crime and thriller. Murakami is her favourite author. She has always been creative and very articulate about her thoughts. She considers formulating her thoughts as one of her strongest points which is why she maintains a blog where she writes about human emotions since they speak volumes to her. She wishes to publish a book of her poems one day. 
She lives by this quote, "People want to be bowled over by something special. Nine times out of ten you can forget, but that tenth time, that peak experience, is what people want. That's what can move the world. That's art."   - Haruki Murakami, South of the Border, West of the Sun.
Find her blog at: https://reethshideaway.wordpress.com/
RELATED LINKS:
Team Members:
Link to Pitch Video
Campus Overview: 
KLS_Gogte_Institute_of_Technology,_Belagavi
Student Priorities:
KLS_Gogte_Institute_of_Technology_Student_Priorities
Link to College website
---
---