Organization:KEEN Network
Jump to navigation
Jump to search
OVERVIEW
"The Kern Entrepreneurship Education Network (KEEN) is a network of thousands of engineering faculty working to unleash undergraduate engineers so that they can create personal, economic, and societal value through the entrepreneurial mindset."
---
PURPOSE
"We are a national partnership of universities with the shared mission to graduate engineers with an entrepreneurial mindset so they can create personal, economic, and societal value through a lifetime of meaningful work."
---
KEEN MINDSET
The entrepreneurial mindset equips your engineering students to understand the bigger picture, allowing them to recognize opportunities, evaluate markets, and learn from their mistakes.  It can power industries, transform companies from within, and create value for employees and customers alike.
Here are some examples of the entrepreneurial mindset at work in KEEN:
Entrepreneurially minded students use Makerspaces to create value. To them, making means acting on an opportunity with an eye for impact, where impact is significance x scale.

By integrating entrepreneurial mindset into labs, extracurricular activities, courses, and across entire programs, universities are not just hubs of knowledge; they become hubs of transformational experiences.

Students who graduate with an entrepreneurial mindset have a head-start in their careers. These graduates are ready to take on challenges and propose solutions to employers.
---
KEEN FRAMEWORK
It's not just about skill, It's about a mindset that can be applied to a range of applications.
The Engineer KEEN needs
These people must possess an Entrepreneurial mindset coupled with Engineering Thought and Action expressed through Collaboration and Communication and founded on Character.
Example Behaviors of an Engineer
Demonstrates constant curiosity about the changing world

Integrates information to assess and manage risk

Identifies unexpected opportunities to create extraordinary value

The framework is a set of guidelines that can be implemented into any course that achieves some of the above and many more traits of an engineer. The general framework is available and can be freely used.
Their framework poster can be downloaded from their website:
---
THE 3 C'S
After years of research, working with faculty from universities across the United States, and studying entrepreneurial thinkers, you can remember the core components of the entrepreneurial mindset with the 3C's
Curiosity  -  QUESTION WITH BOLDNESS. EXPLORE CONTRARIAN PERSPECTIVES.

Connections  -  THINK OUTSIDE THE BOX. PLACE OLD IDEAS IN NEW CONTEXTS.

Creating Value  -  THINK OPPORTUNITY. STAKEHOLDERS. IMPACT.

These three c's are incorporated into the mindset and should be considered when designing course content for young engineers.
---
STEPS TO GET KEEN ON YOUR CAMPUS
The process of becoming a full member of the KEEN network takes time. Those interested should certainly aim to get in contact with the organisation and sort out the steps necessary. Contact information can be found below.
You don't need to be a full member of the KEEN network to start implementing the framework and mindset on campus. The framework and mindset can be integrated into current courses without having to be a member. If you find certain techniques or resources that other universities have used, do contact them as they are often very willing to share and actively get new universities involved.
---
The KEEN NETWORK
KEEN is a network of thousands of engineering faculty working to unleash undergraduate engineers so that they can create personal, economic, and societal value through the entrepreneurial mindset.  KEEN faculty present and deliver keynotes at engineering conferences across the United States, develop and retool curriculum, write papers and publish journals, research new methods to track and assess mindset change in students, and participate in numerous faculty development opportunities in order to be better equipped to be agents of change.  At the heart of all this work is a dedication to make entrepreneurial minded learning commonplace in engineering education so that one day "entrepreneurial engineering" is simply referred to as engineering.
---
PARTNERS
KEEN has 31 institutions that continue to be on the cutting edge of innovation in engineering education. This model of partnership and collaboration looks different across the country, allowing universities flexibility to define how they live into the mission.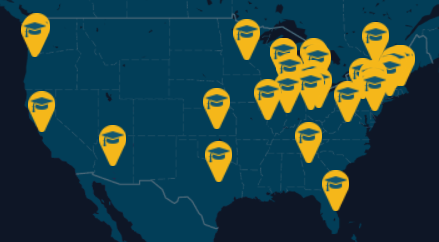 Locations of Partnering Universities in The United States
Link:   https://engineeringunleashed.com/About.aspx
KEEN partners are leading the charge in engineering education reform and by championing the entrepreneurial mindset, KEEN partners graduate students better equipped to solve today's grand challenges and build a better world of tomorrow. For example, by focusing on inclusion, KEEN gives institutions the ability to share, learn from, and modify best practices. Partners also host trainings and meetings, both for the benefit of the Network, and to influence the broader engineering ecosystem. And because of the commitment of presidents, provosts, and deans, faculty at partner schools are afforded the freedom to be agents of change on campuses and in classrooms.
Partner Universities as of 2018:
| | |
| --- | --- |
| Arizona State University | Baylor University |
| Bucknell University | Clarkson University |
| Florida Institute of Technology | Franklin W. Olin College of Engineering |
| George Fox University | Georgia Institute of Technology |
| James Madison University | Kettering University |
| Lafayette College | Lawrence Technological University |
| Lehigh University | Marquette University |
| Milwaukee School of Engineering | Ohio Northern University |
| The Ohio State University | Rose-Hulman Institute of Technology |
| Rowan University | Saint Louis University |
| Santa Clara University | University of Dayton |
| University of Detroit Mercy | University of New Haven |
| University of Portland | University of St. Thomas |
| Valparaiso University | Villanova University |
| Western New England University | Wichita State University |
| Worcester Polytechnic Institute | |
---
SPONSORS
"After recognizing the importance of the entrepreneurial mindset for engineers and the need for it to be integrated in engineering education, The Kern Family Foundation created KEEN". The Kern Family Foundation is a private, independent grant-making organization based in Waukesha, Wisconsin. In 2005, the Kerns sold the balance of the business and directed a significant portion of the profits to grow the Foundation.
---
CONTACT INFORMATION
Initial contact should be made through their website.
https://engineeringunleashed.com/
Additional information is provided for additional exploration.
Social Media Links
https://www.linkedin.com/company/3876747/
https://www.youtube.com/user/TheKEENNetwork
https://twitter.com/keenunleashed?lang=en

The Kern Family Foundation
W305S4239 Brookhill Road Waukesha, WI 53189
Phone: (262) 968-6838
Fax: (262) 968-9424
Email Us
info@kffdn.org