Fellow:Spencer Lueckenotto
Jump to navigation
Jump to search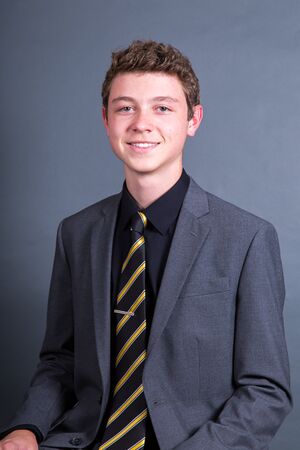 I am a sophomore attending Wichita State University pursuing a degree in aerospace engineering with a minor in entrepreneurship. I am originally from Kansas City, MO and hope to one day work for a small start-up in a technology-related field. Currently, I am employed part-time at FirePoint Innovations, which is a company headquartered on WSU's main campus. We are tasked with interfacing with Army officials on current research projects including autonomous drone teaming, technology transfer and more. I originally became a fellow in the Spring of 2018, encouraged to do so by my older fellows at my school. Some of the past projects I have been a part of include facilitating design thinking workshops, the 32 Second Challenge project, and attending regional meetups at other universities.
At Wichita State, I am the current president and co-founder of the Shocker Quad Club, a drone racing and building club on campus. In this club, we teach interested students how to construct their own homemade quadcopters and fly them using First-Person View (FPV) technology. Future plans include networking with other similar clubs at other campuses and hosting races for members, as well as the public, to enjoy. I am also an ACE engineering coach for incoming freshman to the college of engineering. I provide my experiences and guidance to my mentees as they adjust to college life and academics.
Apart from extracurricular activities, I consider myself as a hobbyist. I enjoy making small circuitry items, such as drones and electric longboards, as well as learning techniques of manufacturing at the local makerspace, GoCreate. At the makerspace, we have state-of-the-art tools including, laser engravers, woodworking tools, 3D printers, large-format media printers, a water jet, CNC machines, and more. 
You can check out my FaceBook page and connect with me here.
Related Links
Wichita State University Student Priorities