Fellow:Nicole Parker
Jump to navigation
Jump to search
Nicole Parker is a Social Entrepreneurship graduate student at George Mason University in the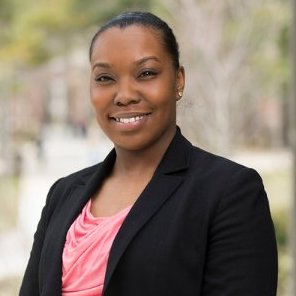 Interdisciplinary Studies Masters Program. Nicole is a passionate community builder and advocate looking for ways to create change through empowering others to tap into their full innovative potential.
Through her work as a University Innovation Fellow at GMU, she hopes to work with administrators and students to provide a diverse inclusive learning environment where all individuals feel a sense of belonging, and are able to take an active role in their learning. She believes this comes by providing access to resources, and guiding students to creatively connect their passions with purpose through experiential based learning.
Nicole has diverse experience in developing, and implementing creative co-curricular programs and curriculum that provide an alternative to traditional learning. In her current role as a Graduate Assistant for the GMU Living Learning Community Development Office, she engages student leaders to extend their learning outside of the classroom through experiential co-curricular leadership development that provides creative spaces for students.  
Prior to pursuing graduate school Nicole worked in higher education in various roles in the areas of multicultural affairs, pre-college programs/access, and student development doing similar student engagement and empowerment work. It is through these roles, her undergraduate experience at Aquinas College, and personal lived experience she developed a passion for diversity and inclusion and creating social change through social entrepreneurship and innovation.
In addition to being a full-time graduate student, Nicole is a dedicated board member and co-founder of Charlie's PLACE-Pursuing Leadership and Community Engagement, a Michigan-based non-profit started by her family in 2014. Through Charlie's PLACE Nicole and her family are facilitating community transformation by providing diverse social services; serving youth ages 5-22, low-income populations and families in her hometown of Kalamazoo, MI. 
Nicole holds a B.A. from Aquinas College in Community Leadership and Political Science. She is currently in her last year of the Social Entrepreneurship program and her research area is on Black Innovation and youth empowerment. Upon graduation, Nicole hopes to continue developing and implementing community based programs for Charlie's PLACE and doing consulting work focused on social innovation, minority business creation, and culturally competent systemic change. 
Related Links:
George Mason University Student Priorites
Nicole Parker