Fellow:Juan Diego Olivella Cicero
Jump to navigation
Jump to search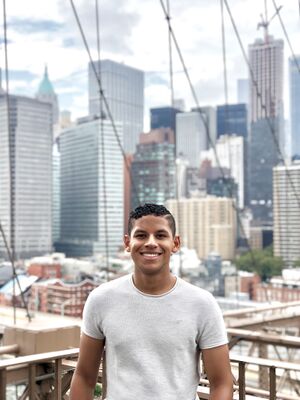 Juan Diego Olivella Cicero is a University Innovation Fellow and an undergraduate student who majors in both Chemical Engineering and Geosciences with a minor in Entrepreneurship at Universidad de Los Andes, Bogota, Colombia.
In January of 2019, Juan Diego became the student representative of the geosciences department and the founder of the student council for the department. Within this group, Juan Diego and his peers perform activities on behalf of the student community and serve as a bridge of communication between all members including students, teachers, and administrators. Additionally, Juan Diego served as vice-president of the American Association of Petroleum Geologist (AAPG) student-chapter. In this position, he held various conferences, courses and field trips for undergraduate students to have a direct approach with influential members of the oil industry and with experience in the field.
Likewise, he has been awarded of several awards such as the best innovation project in the Week of Innovation at Universidad de Los Andes and four times the award of academic excellence for having for the best average of the Geosciences Program. In his last year of school, he also won the distinction of academic excellence and sport spirit. 
Having lived all his life in Bogotá, Juan was exposed to the Colombian reality and felt an urge to work to improve it. For the past reason, his focuses include social change, entrepreneurship, sustainability, and innovation. With this, Juan wants to achieve one of his life goals which is to generate a positive impact on society. 
Regarding his personal life, Juan Diego enjoys spending time with his friends and his family. With the latter, he enjoys lazy Sunday and the occasional Friday night party, which always proves to be a nice break from the routine. As for his friends, outdoor activities are the preferential choices: everything from playing basketball to an intense jogging challenge up to Monserrate, flagship place of the capital of Colombia.

Email: jd.olivella@uniandes.edu.co  |  jdoc98@gmail.com
---
RELEVANT LINKS
Universidad de los Andes Student Priorities
COHORT
---
---