Fellow:Elena Brindley
Jump to navigation
Jump to search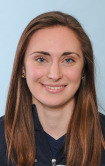 Elena Brindley is a University Innovation Fellow at the University of Notre Dame. She is a senior Biology major with over 3 years of laboratory experience, and she serves as a student leader in various capacities. Her previous research experiences include a Summer Undergraduate Research Fellowship studying protein interactions and crystallization at Drexel University College of Medicine in the Department of Biochemistry and Molecular Biology, a Summer Scholars Fellowship studying neural crest cell migration at the Stowers Institute for Medical Research in Kansas City, MO, and Undergraduate Research examining mosquito vision and behavior at the University of Notre Dame in the Department of Biological Sciences, for which she was named a Hoffman scholar. 
Because of her passionate dedication to her school, she strives to promote involvement in many campus groups. She currently serves as Co-President of the Biology Club, enjoys singing the Voices of Faith Gospel Choir, and works on the student First Aid team. As a member of the Women's Rowing team, she also serves as a leader within the student athlete community and represents her team on the Student Athlete Advisory Council. As a result of her involvement and leadership on campus, she had the privilege of being awarded a Hipp-Beeler Scholarship in 2014. She is in the process of applying to M.D./Ph.D. programs and hopes to pursue a career in academic medicine with a focus on neurodegenerative diseases.
Currently, as a member of the University Innovation Fellows training program, she is collaborating with a team of fellow students to engage the entire campus in innovative thinking and promote entrepreneurship and creative problem-solving among students of all disciplines. She is very excited and honored to join the University Innovation Fellows team and is looking forward to promoting innovation on campus.