Fellow:Ben Rathi
Jump to navigation
Jump to search
Ben Rathi is a University Innovation Fellow candidate in the Fall 2015 cohort. He is a senior pursuing a dual major in business administration and computer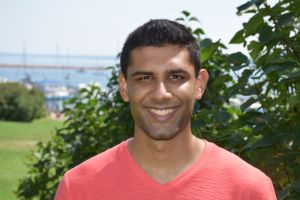 science at the University of Michigan in Ann Arbor. Through academics and extracurricular engagements, he has developed an intense passion for creating greater efficiency in society. In particular, he believes that improved collection and analysis of data can solve many of the world's most pressing problems in health care, agriculture, and education, to name a few industries. Given his background in business and technology, he hopes to one day lead a successful technology startup in the realm of health care, and until then, work on as many startups and entrepreneurial endeavors as life hands him.
Ben has had a first-hand taste of entrepreneurship as the Founder & CEO of Blueprints For Pangaea, a 501(c)(3) nonprofit organization that has reallocated over 20,000 pounds of medical supplies worth $1M. He has also served as a business consultant for various startups through the Nexecon Consulting Group, including a smart textile company in New Zealand looking to enter the mHealth market in the US, and a Bay Area gene-therapy startup looking to enter the drug delivery market. Ben is also a technologist at heart, and enjoys refining his data analysis and product design skills through various projects on campus.
In his free time, Ben enjoys all kinds of health and fitness activities, including running, yoga, and weight-training. Ben is also an A Capella singer and has performed Hindi songs at many weddings and cultural functions. Ben's favorite experience in college has been meeting interesting and diverse people, and would love to hear from you through LinkedIn  or email. Thanks for stopping by!
Related Links
University of Michigan, Ann Arbor
University of Michigan, Ann Arbor Student Priorities
Ben Rathi