Fellow:Aravind Vankadaru
Jump to navigation
Jump to search
ARAVIND VANKADARU is a University Innovation Fellow, He is a student at Sri Vasavi Engineering College located at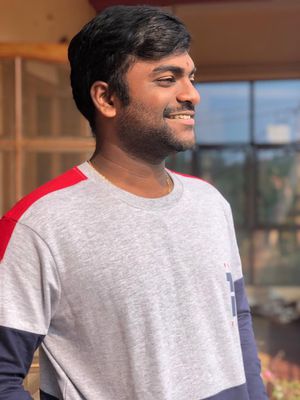 Peddatadepalli,Tadepalligudem West Godavari, Andhra Pradesh currently pursuing his Bachelor of Technology in CIVIL ENGINEERING. Well known for his work in civil engineering. He is an Engineer, Speaker, Humanitarian.
He was born on 2nd December 1999 at the heart of exporting in West Godavari & Andhra Pradesh at Tadepalligudem.
He started to dream and work for structural building to establishing very high strength concrete & steel structures and also working on the rotted bitumen roads, which became as the major problem in INDIA. With the inspiration from great leaders like Sir Mokshagundam Visvesvaraya who is the first civil engineer of INDIA.
He also started teaching his peers and juniors and became root cause to start Technical Club in Civil Engineering. He thought AUTOCAD. Expert in many softwares like 3Ds Max, E-Tabs, Revit Architecture, Primevera and many more. With this passion and dedication to teach and to lightenup many brains became as part of UIF. Because he believe change can be brought in education only with UIF, He acts as torchbearer for many students.
ARAVIND believes Dedication, Interest, Passion on working on something which you love gives you success even if you wont follow success it will be with you.
His goal is to become an entrepreneur and start his civil engineering company which could be a designing consultancy, software consultancy, architect, contracter.
His Interests are:
Management skills: Manage, Organize, Decision making, Leadership, Motivation, Communication and Patience.

Industrial oriented: Designing, Planning, Invention, Eco friendly constructions.

Learning new things.

Presentations and Seminars. 

Teaching People i.e. students. 

Making Youtube educational videos.
He also worked with Android Studio, Chat bots in Chat fuel and IBM Watson (basics). He started his website writing blogs on latest inventions and adoption of Green culture in construction. His works were on U-Boot Technology, Void slabs, Floating Constructions, Self Healing Bitumen, Green Concrete, 12- Floor constructions. He is presently working on Rain Water Harvesting.
Achievements:



Certified professional in AUTO CAD

Certified professional in 3Ds Max

Won many prizes in presentations 

Been a part of Tech Fest IIT Bombay

Selected as final contestant for E-Summit IIT Bhubaneswar

Selected for the Deftronics Summit at Hyderabad by IB Hubs

He played for his college foot ball team for tournaments conducted by JNTU Kakinada 
Find Him on 

<span style="font-size:medium;"</span>
RELATED LINKS 
 

Meet Our College at 

Link

Visually Feel Our College with

Link

Landscape Canvas Spread Sheet

Link

Visual Landscape Canvas

Link

Student Priorities page

Link
Fall 2019 Candidates
---
---