Fellow:Amelia Hanzlick
Jump to navigation
Jump to search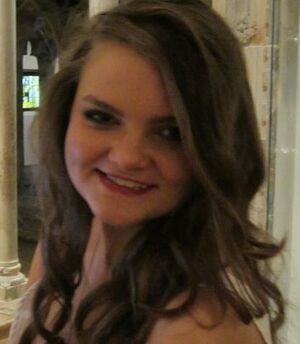 Amelia Hanzlick, called "Mia" by some, is a junior International Business, French, and Critical Thought and Inquiry major with an emphasis in Pre-Law. Amelia has explored a few career fields through her work at the McClelland Law Firm where she assisted in employment law cases, at Entercom Media where she worked in marketing for Kansas City's number one radio station, at the Whittaker Group where she helped an agricultural start-up company find funding through private equity, and through her on-campus job with the school's education department where she does event planning and social media marketing.  If it is not clear enough, she is still trying to decide what to do with her life.
At school Amelia is involved as a Pryor Leadership Fellow, a student senator, the Vice President of the Panhellenic Council, a Resident Assistant, an intern for a local French charter school, the Secretary and Treasurer of a campus political organization, a member of Alpha Gamma Delta, and as a Cardinal Host. When she is not busy with classes or activities, Amelia enjoys volunteering for a domestic violence shelter, baking, and going on long walks.
Amelia values the support of her loving family and pet Schnoodle, Oliver. Amelia hopes to become an immigration attorney, although she is not sure, because she is fascinated by other cultures and genuinely adores sharing her culture with others. When she was in sixth grade, Amelia went to France and realized that she was not as cultured as she thought when she couldn't understand a word people were saying. Ever since, she has become fluent in French and has studied abroad both in high school and in college.
Related Resources
William Jewell College Strategic Priorities
William Jewell College 2014-2015 Leadership Circle: Bradley Dice, James Milam, Kate McFerren, Amelia Hanzlick, Conner Hazelrigg