This site will go under maintenance from 25-11-2020 to 30-11-2020. It might not reachable during the maintenance period.
Fellow:Margaret Heffernan
Jump to navigation
Jump to search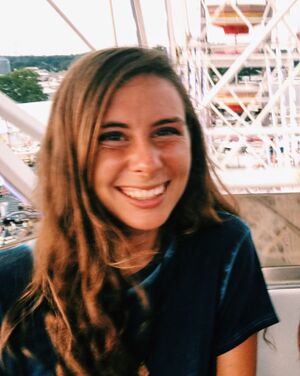 Margaret Heffernan is an University Innovation Fellow and studies Landscape Architecture at the University of Delaware. When walking down a crowded street one may find a strange human standing and watching, in awe of the shifting of leaves on the top of a tree against the shades of blue in the mid-afternoon sky. That human is Margaret Heffernan. She is most likely to be seen wearing the logo of a local restaurant for whom she works, and thinking of the microcellular aspects inside the tree's leaf venation. A plant biology enthusiast and practicing artist, Margaret studies the relation between her two biggest interests: science and design, in the major of Landscape Architecture at the University of Delaware. Her work combines the ideas of creating sustainable, efficient, landscapes that not only create aesthetic appeal as well as being functional. To bring ideas such as Urban Agriculture through green infrastructure to highly populated areas with little access to fresh produce. When she is not building new plans and designs or working hard waitressing, she can be found obsessively reading Kurt Vonnegut and painting fruits and vegetables.
Related Links
Landscape Canvas https://docs.google.com/spreadsheets/d/17gb2EKwdQ4tVg3qPzKz-jEuvr2077rqDbXVHvm1JDmY/edit#gid=119987244
University of Delaware Student Priorites
---
---