Fellow:Angelica Willis
Jump to navigation
Jump to search

Angelica Willis is a free-thinking and passionate University Innovation Fellow and computer science undergraduate student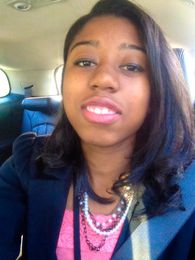 at North Carolina Agricultural and Technical State University (NC A&T). Angelica's four major pillars of inspiration include technology, entrepreneurship, education, and global citizenship. Her passion for academic research has afforded her the opportunity to work on Ecological Forecasting at the National Aeronautics and Space Administration (NASA), National Science Foundation initiatives, Active Authentication research for a global financial institution, as well as  Collaborative Learning research within the computer science department at NC A&T.
Angelica is very honored and humbled to have receive several achievements and awards, including being a 2014 Google Edge Program Participant, a 2015-2016 White House Student Ambassador, a Phi Kappa Phi Honors Society Highest Freshman GPA Award winner,  a NCA&T SU Computer Science Dept. Highest Freshman GPA Award winner, NCA&T SU Computer Science Dept. Highest Sophomore GPA Award winner, and a Alpha Lambda Delta National Honors Society Inductee. Angelica has also won academic scholarships from the Buick Achievers National Scholarship (General Motors Foundation), the Thurgood Marshall Scholarship Foundation, the Great Lakes National Scholarship Award, and Burger King. Angelica has completed at an internship at Bank of America, as well as NASA, where she has learned to apply her skills to real world challenges.
Angelica is known for being excited by challenges, open to new ideas and cultures, and being naturally drawn to problem solving. She is a big believer in volunteerism, and, in addition to being a campus Honors Program mentor, she is a member of the National Society of Black Engineers, and a computer science S.T.A.R.S. mentor. Her hobbies include learning new languages (programming and human), traveling, web development and graphic design.
Angelica's favorite quote: "If I had asked people what they wanted, they would have said faster horses." –Henry Ford